Create a Pro website with your phone

Today making a real website without a computer is possible thanks to SimDif.

A SimDif Pro site has everything you can find in a Starter site and in a Smart site and takes you even further in the creation of your web pages.
• You can quickly create rich forms, and invite your clients to provide more specific information.
• You can offer a simple online payment solution by using PayPal buttons.
• If your site is the type of site that has a lot of visitors, you could think about setting up your own Google ads.
•••
With the Pro version, you can control in details, the graphic aspects of your website on phones and computers.

With a SimDif Pro site, you can define your own colors, transparencies, shapes, fonts, and create your own unique graphic template.

SimDif calculates a fair price for everybody.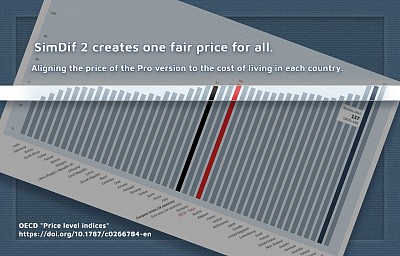 A different price for every one, the same value for all.
Why this particular way to calculate SimDif's price ?
When a service is good it is important to help as many people to take advantage of it. SimDif has created a fair price for everyone around the globe.

Each country has a different cost of living so if you want to create a fair price for everybody, it actually means creating a different price for each country.