The Smart way to make a website with a phone

More pages, more graphics presets, and more options, at a friendly price.

The Smart version has added presets for the fonts, colors of your site, and the shapes of your tabs and pages.
SimDif Smart sites are well integrated with your digital world.

•  You can create buttons to encourage your visitors to go to a specific page on your site, to visit your Facebook page, or to contact you through your favorite communication app.
•  Your blog entries can have a comments section. You can validate these comments inside the SimDif app before you publish them.
A SimDif Smart site offers very good value for money

For a very soft price you can create a solid presentation website. A SMART site is a good way to build a serious online presence for your activity.


A SimDif SMART site has everything you can find in a STARTER with a few more relevant features:

• Use up to 12 pages to build your website, and enjoy many additional features. A richer, more useful site will be appreciated by your readers and Google!
• Gather professional statistics about your visitors, better understand their behavior on your site by installing Google Analytics.

•••

Build a Pro website with your phone

SimDif calculates a fair price for everybody.

Why this particular way to calculate SimDif's price ?
When a service is good it is important to help as many people to take advantage of it. SimDif has created a fair price for everyone around the globe.

Each country has a different cost of living so if you want to create a fair price for everybody, it actually means creating a different price for each country.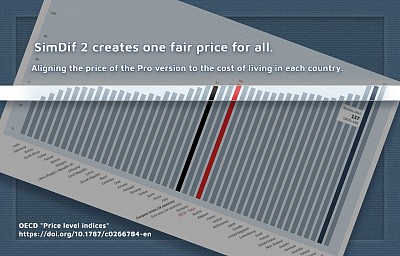 A different price for every one, the same value for all.
Are SimDif sites visible on Google's search results?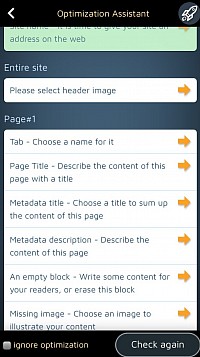 Unique to SimDif, you can activate the optimization assistant.
What about SimDif sites and main search engines?
The vocation of this app is to help you organize your content for your readers in a way search engines will appreciate.
A useful site, clearly organized around your client's questions, will facilitate that Google builds a clear picture of your business, and recommends it.


When you publish your site the Optimization Assistant helps you complete and optimize your site.
The SimDif team does not hide that it takes a little time, and certain qualities, for a website to be visible on Google in a useful way.
Ideally, you want your site to appear in Google's results when somebody types your name.  More importantly, you want people to find you who do not know you when they look for what you offer in the city you are in.